I'm changing jobs (after almost 7 years at Riot, that's a long run!) and I wanted to post a bunch of links to public facing stuff from my time at Riot, mostly Valorant stuff from the past year, this is very self indulgent but think of it as a portfolio of sorts.
Writing
Game Update 01: ON RAZE AND ANTI-CHEAT
Game Update 02: ON VANGUARD ERRORS/SOLUTIONS, GUN SKINS, AND AGENT PROGRESSION
Game Update 04: ON PEEKER'S ADVANTAGE & RANKED
Dev Blog: Anti-cheat What, Why, and How
Dev Blog: VALORANT ANTI-CHEAT: CHEATER, REPORTED!
My Riot Reddit Account history

Reddit comment about the first cheaters banned
Reddit comment about running a driver at boot
Reddit comment about a performance regression
Tweet about how many cheaters exist in games and how that feels for players:
There wasn't a right or wrong answer to this poll but I do have some background to give.

It's hard to measure cheating rates because we often have imperfect detection. Devs normally estimate cheating populations by extrapolating from detections, player reports and research. https://t.co/UOzBTkVkNy

— Paul Chamberlain (@arkem) June 26, 2020
Valorant Game Features
Most of what I build for Valorant was security and anti-cheat features but there are some more game related features that I want to highlight below.
Fog of War
Here's the "with Fog of War enabled" clip from the article https://t.co/FdTY2tWICz pic.twitter.com/TK6bdBsm1F

— Paul Chamberlain (@arkem) April 14, 2020
Map targeted abilities
Minimap footstep audio circles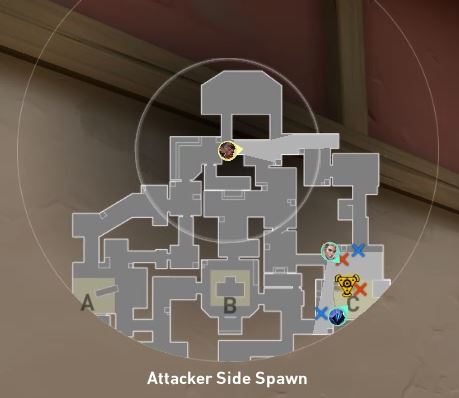 Player facing no-hud/cinematic mode
Early grenade physics (~2015 version)
Character select (the first version ~2015)
Security error messages / ban messages (UI and plumbing)
https://twitter.com/arkem/status/1193343334636326912
Here's me being banned from Project A. I am better at security than at art but my "HACKER DETECTED" screen is a thing of beauty. pic.twitter.com/3N0953yqq0

— Paul Chamberlain (@arkem) November 10, 2019
https://twitter.com/Ninja/status/1278388868534894599
Feelsgoodman pic.twitter.com/xxhuYomrVF

— Ninja (@Ninja) July 1, 2020
Lots of behind the scenes stuff
Network encryption, performance optimization, UI tweaks, gameplay telemetry system, an engine upgrade, middleware integrations, code analysis tools, lots more that I've forgotten.
Interviews / news quotes
I did a lot of interviews and got asked for quotes many times, I didn't do a good job keeping track of how those quotes and interviews were used but here are some of them that I could find after the fact.
IGN: Valorant Cheaters Remain Banned After Beta
Nerd Street Gamers Interview Video
ChinaJoy Keynote official page
VICE: The Vigilante Hunting Down Cheaters in Video Games
Polygon: Valorant: How Riot finally made something new
Polygon: Valorant team bans over 8,000 cheaters in closed beta
InvenGlobal: Valorant has prepared to deal with hacks from the very beginning
Riot: A Message About Vanguard From Our Security & Privacy Teams